When I first heard about it, I didn't believe it. I didn't believe the before and afters and I didn't quite believe the claims. However, after some research, I decided to try and review the Ultimate Body Applicator, a product from It Works!
The Ultimate Body Applicator is designed to release toxins and target problem areas on your body to tone, tighten, and reduce cellulite. It is not a weight loss product, however, it can aide in overall results of weight loss if used with proper nutrition and exercise.
Initially, I was concerned that this was a product the promised fast results without any work but after research, I learned that this was not meant to be a quick fix/magic pill for weight loss. It is a product that does at home what people go to spas and pay hundreds of dollars to accomplish. After reading about all the hype, I was excited to try it!
Here are the Claims that the product makes:
Tightens, tones, & firms
Minimizes cellulite appearance
Improves skin texture & tightness
Mess-free and simple to use
Results in as little as 45 minutes
Progressive results over 72 hours
Made with natural ingredients
Results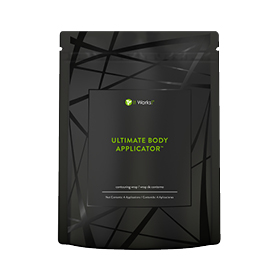 Before and After Photos (Sorry for the difference in lighting, it turned dark all of a sudden!)
I wore the wrap for an hour and a half. This was my first wrap that I had ever used and drank about 50 oz. of water while I wore it. Overall, I lost 3/4 inches around my waist immediately after removing the applicator a 1 & 3/4 inches around my waist after 72 hours. My skin felt firmer and tighter. It felt good and like I had just spent time at a spa without actually spending the time and money that a day at the spa would cost. My skin during the time I had the wrap on and right after I took it off was tingly and felt cool and refreshed.
I did not change my typical eating habits in the days following but made a conscious effort tot eat healthy and drink more water.
Conclusion
The product, in and of itself – for one wrap is about $14.75 but comes in a pack of 4 for $59.00. If you are looking for something to tone and tighten your skin, I think It Works…. well… it works! This is not a miracle product, it will not make a Buddha belly into a 6 pack overnight but if you are looking to improve your results of balanced nutrition and exercise, The Ultimate Body Applicator is a great option. On the other hand, if you do not continue to wrap and make healthy nutritional choices, you will not see the results that you are wanting.  I know I did not lose water weight while I wore the wrap and that was important to me as I did not want to lose inches for the day and then gain it all back the next.
This would also be a great product to try for mom's that have just had a baby that are looking to tighten and firm areas of their body or someone that has recently lost a lot of weight and is looking to tighten and tone. Also, this could be something good to use before a weekend at the beach. I would say this is a good product for anyone to try and long term use would be beneficial, as the company suggests use up to every 72 hours. If you are curious about a body wrap and do not want to spend the money at a spa, this is a great alternative!
Directions
1. Don't wrap while on your on your monthly cycle. We tend to carry extra water then, so you may not see results while wrapping
2. Unfold the wrap and put the lotion side against your skin
3. Use cling wrap or our fab wrap to hold it in place.
4. Leave it on for as little as 45 minutes or up to 8 hours
5. Drink at least half of your body weight in water by ounces. Ex. Weight 120lbs = 60oz of water
6. When you take it off rub all the extra lotion into your skin
Do not shower for at least 3 hours after wrapping
Stay hydrated for the next 72 hours after wrapping. You can wrap every 72 hours, do not use more then one wrap at a time.
If you are looking for more information on It Works products or Wraps click here
Or Contact Alisha Christenson at wrapwithalisha@gmail.com
*I did not receive any financial compensation for this review, though I did review a sample of the product for evaluation purposes. The opinions are based only on my experiences with the product.*